Electronic PDF Certificates ICMAUA
International Combat Martial Arts Unions Association
Attention: Some fake copies of ICMAUA's Certificates were found on e-bay or were sent to other organizations. Please check validity of any ICMAUA Certificates by visiting ICMAUA Individual and Organizational Members list!
Conservation of nature and forests is an important global problem and one of main goals for any good people and Martial Artist. Therefore since November 25, 2017 ICMAUA offers Certificates only in PDF format (electronic certificate). All old paper certificates are valid also.
Lifetime Membership and registration of Ranks in the ICMAUA and Unions are free.
But ICMAUA needs for payment for PDF certificates (USD15 for each certificate) because we bay resources and goods (computer, programmes, electricity, communications etc.) from sellers.
All the Certificates since November 25, 2017 are available in PDF format only.
You can use the PDF Certificate on your mobile and you can print the PDF Certificate for your Dojo wall.
If you wish to receive any Certificates from any Union of ICMAUA, send, please your info according form below by e-mail to the ICMAUA and payment USD15 by PayPal:
Type of certificate: Membership, Rank, Examiner, Instructor, Title, Founder, Head Master, Head Examiner, Soke etc
Regular or Traditional (Japanese, Chinese, Korean) style of certificate.
Name: you name and surname.
Rank: your rank (for Rank and Head Master Certificates).
Style: your style.
Union of ICMAUA: from which the certificate will be issued (Jujitsu Union, Taekwondo Union, and Founders Union etc.)
Your e-mail address.
Certificate format

PDF format

(send by e-mail)

Size

A4

payment for each and any certificate

USD 15
Full responsibility for the registered information and claimed ranks belongs to the authors. The international director and the Unions ICMAUA and ICMAUA disclaim responsibility for any liability, injuries, or damages.
ATTENTION:
The ICMAUA is service organization for Martial Artists and for other organizations around the world.
The ICMAUA recognizes Members ranks and level of skills, also with certification, if need.
1) The ICMAUA needs to receive the requesting e-mail from you, with your request for certificate. PayPal payment information isn't the same as official request for certification.
2) The certification isn't the same as a shopping: usually we need for consultations with some our members, for board members acceptation; also we need for time for registering and updating of the list of members. Usually this is a very short process: 1-3 days, but in some cases 2-3 weeks, depending of other people and services.
3) Any new recognition needs for time: sometimes some days only, in other cases- some weeks. In these days we consult with board members, masters in the same style, if need: write to other experts, contact other international organizations, create the certificate, and update the register.
In questionable cases the registration and certification can be prolonged.
All funds are used to support this site, ICMAUA and to promote the Combat Martial Arts.
The certificates confirm your Rank, qualification, and membership in ICMAUA and your Union ICMAUA on the international level. It will be indicated in your personal data in the ICMAUA Members Roster when you are internationally certified.
TYPES OF CERTIFICATES
<![if !vml]>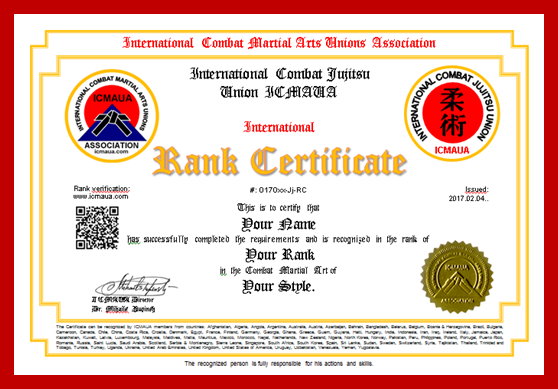 <![endif]>
REGULAR ICMAUA PDF CERTIFICATES
or
TRADITIONAL STYLE CERTIFICATES
FOR TRADITIONAL MARTIAL ARTISTS:
 <![if !vml]>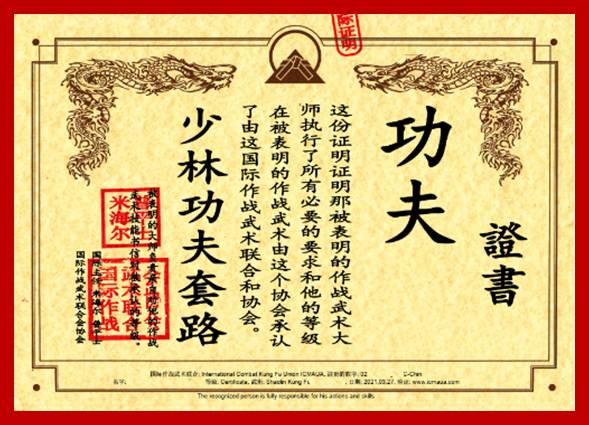 <![endif]> 
CHINESE STYLE ICMAUA PDF CERTIFICATES
<![if !vml]>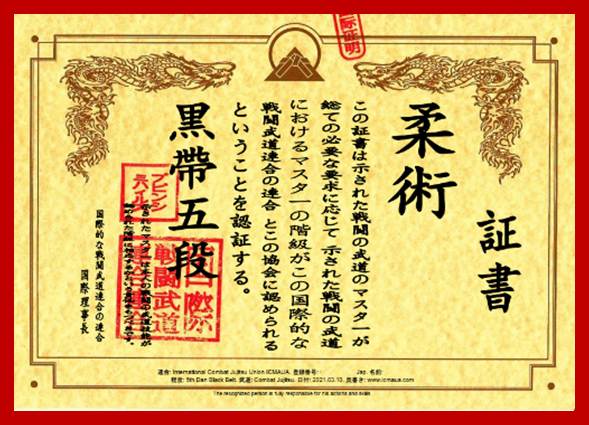 <![endif]>
JAPANESE STYLE ICMAUA PDF CERTIFICATES
<![if !vml]>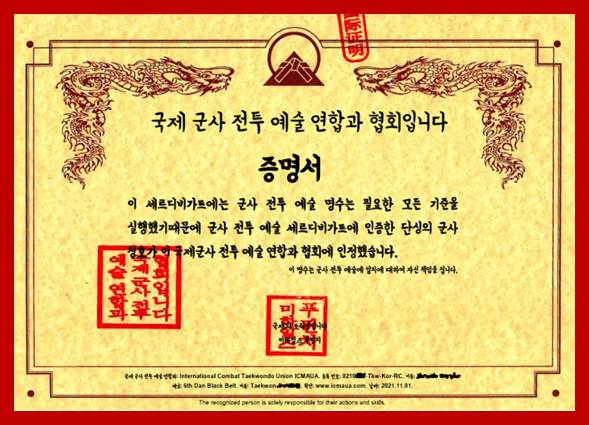 <![endif]>
KOREAN STYLE ICMAUA PDF CERTIFICATES
© International Combat Martial Arts Unions Association All Rights Reserved.